A city-county partnership for immigrant inclusion: Welcome Toledo-Lucas County
The first Certified Welcoming city-county duo shares how the local governments collaborate within their community.
Among the 18 places that are Certified Welcoming, there is only one city-county duo: the City of Toledo and Lucas County in Ohio.
The City of Toledo began working to become Certified Welcoming with Lucas County in 2018. Lucas County achieved certification in 2019, and the City of Toledo followed this accomplishment by becoming certified in 2022. Lucas County was recently recertified in 2023.
"For Toledo and Lucas County to be the first duo in the nation makes us stand out," says Caryn Maloney, commissioner of the Human Relations Commission, the department that leads welcoming work within the City of Toledo.
The city and county work in partnership with Welcome Toledo-Lucas County, also known as Welcome TLC, to achieve and maintain their joint certification status.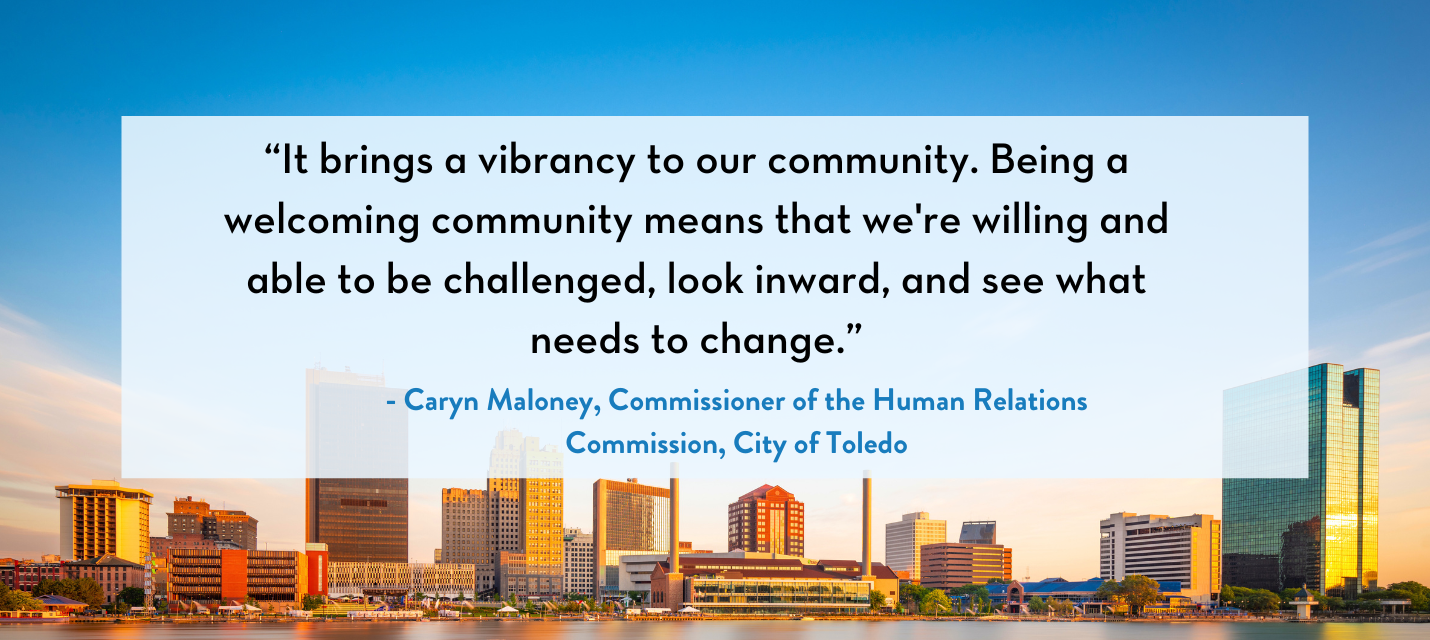 Founded in 2014, Welcome TLC is working to build a welcoming and inclusive community for all, but especially for the growing immigrant and refugee population that makes up nearly 4% of the city's and county's residents.
"We're becoming global," says Crystal Harris Darnell, director of the Department of Diversity, Equity, and Inclusion for the Lucas County Board of Commissioners. "It's our responsibility to make sure that we're serving all of our residents here in Lucas County. Being a Certified Welcoming community allows us to develop the framework [to ensure] we are being inclusive of everyone."
As the community works together to develop welcoming programs and policies to support newcomers, the partnership between Toledo, Lucas County, the public library, and local partners in Welcome TLC is the secret to their success.
Background
Welcome TLC was originally led by the Lucas County Board of Commissioners. Leigh Utley, the program specialist for the Department of Diversity Equity & Inclusion at Lucas County, shares, "The initial certification was important to the commissioners. As a county, we want to set standards for best practices, and making sure that we were recertified was one of them."
Maloney emphasizes, "We are unique in that our local government leaders believe in this work. Through conversations I've had with other communities, I've discovered that that's not always the case, that oftentimes it's nonprofits or organizations that are trying to get buy-in from their local government."
In 2018, the Toledo Lucas County Public Library began leading Welcome TLC's network of community organizations and volunteers. During the pandemic, the library and Welcome TLC network were instrumental in facilitating communication with newcomer communities, but city and county employees shifted their focus to other aspects of the COVID-19 response and became less involved in the network.
However, when the City of Toledo was working to become Certified Welcoming, one of the requirements of their audit action plan was to take a more active role with Welcome TLC. "The library came to us and said, 'Hey, you guys need to be at the table,'" Maloney says. "We created a team with the library, county, and city, and have been more involved than ever."
Harris Darnell affirms, "Developing relationships allowed us to have conversations where we're not making assumptions about what people need. I think that's the power of the partnerships that we have established as a part of Welcome TLC."
Community connections through the public library
Welcome TLC sees the advantages of the public library being a leader and hub for welcoming newcomers.
Many communities have physical welcoming centers that serve as a resource hub for newcomers. "The library could be such a thing. When you come here as an immigrant or a refugee, that would be your first stop," says Maloney. "I think naturally it is for a lot of people just because it's full of resources and language help."
"The library is a hub of information and activity in Toledo and Lucas County," says Mely Arribas-Douglas, the library's Welcome TLC specialist. "The Toledo Lucas County Public Library has 20 locations, with 300,000 active card users, and hundreds of programs a month spread out between those locations." Utilizing the library's connections has been key for connecting with newcomers and other diverse communities in the region.
Some of the library services that support immigrant and refugee communities include English language learning opportunities, legal resources, and most recently, mock citizenship interviews so aspiring citizens can prepare for the naturalization process.
"Some of our partner organizations excel at providing citizenship classes for their clients," Arribas-Douglas says. "We are able to provide additional support for naturalizing community members by providing a service that was previously not offered anywhere in Toledo and Lucas County."
The Toledo Lucas County Public Library has a big role in facilitating communication and information flow between the local governments and newcomer communities. As the Welcome TLC Specialist, Arribas-Douglas has been a big advocate for the county's and city's participation in the network.
"Our effort at becoming a more welcoming and inclusive community is constant, [as] there is always room to evaluate and improve on existing efforts," she reflects. "I imagine that this momentum [around becoming Certified Welcoming] will help our immigrant- and refugee-serving ecosystem work more closely and efficiently together."
Establishing roles for working together
Working together through Welcome TLC, the city, county, and library have realized the importance of defining their roles and collaborating on efforts that should involve everyone.
Welcome TLC's organizational structure includes members from the advisory team — including community members and organizations providing direct services for newcomers — and staff from the City of Toledo, Lucas County, and Toledo-Lucas County Public Library.
"It's exciting to see the working relationship between all three entities and committees deepening, especially during recent efforts to attain the Certified Welcoming designation for the city and a redesignation for the county," says Arribas-Douglas. "Welcome TLC meets monthly, [which] allows us to better address challenges and opportunities that arise in the community."
Nina Corder, the managing director of Women of Toledo, serves as a member of the Welcome TLC advisory team. In her role within the network, she offers a critical perspective on the importance of belonging and accountability as an immigrant who has lived in Toledo for over 24 years.
"When your city-county understands how to serve and support newcomers, it adds to our sense of belonging," she reflects. "As the advisory team of Welcome TLC, it is important we continue to take ownership of this work, keep our Certified Welcoming status up-to-date, and continue progress on pending work, so we can continue learning how to create a more equitable and welcoming future."
During Lucas County's recertification, Utley says that "one takeaway was making sure that we established partnerships within the community and making sure that we have really good communication and that everyone understands their roles." Other Certified Welcoming communities have also found success in open communication and pooling resources together.
"With government, oftentimes there are silos of work being done," Maloney notes, but with the partnership structure of Welcome TLC, all of the stakeholders have felt encouraged to work together, rather than separately, for the betterment of their community.
"If the city is successful, then the county is also successful. When we're looking at how to share and leverage our resources, we work together," Harris Darnell explains. "We identify the partners, we identify the gaps, we come together to figure out what we need to do as individual agencies, and then what we need to do together."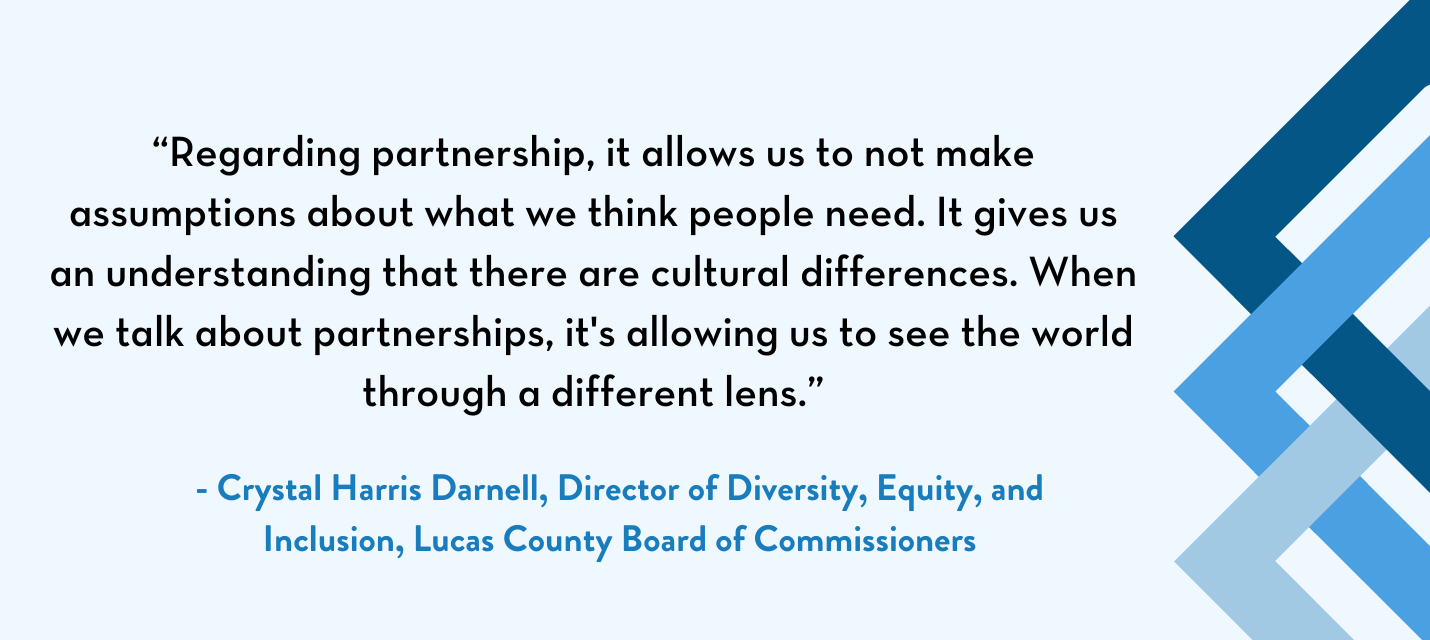 One recent example of collaboration began when the City of Toledo partnered with a Muslim community center to host an Iftar dinner during Ramadan. The City invited the Lucas County government to co-host the event in One Government Center, the building that houses both government offices in Toledo.
Utley reflects, "It was a really great way for government to collaborate and invite in people that practice Ramadan. They were able to see the governance center, some being here for the first time, and then leave here feeling more welcomed than they did when they entered."
Meeting long-term needs: Resource mapping and beyond
With the partnerships and roles the community has established, Maloney says, "We can bring all of our resources to the table and provide the best possible services to people that come here."
Now that both Lucas County and the City of Toledo are Certified Welcoming, they are working together to complete their audit action plans. This includes working together within the Welcome TLC network to map out the array of resources that the county, city, library, and partners currently offer to identify strengths and gaps.
Harris Darnell hopes that they will be able to identify all of the organizations that serve immigrants and refugees "so when someone new relocates to Lucas County or Toledo, they don't have to go to several organizations to try to find resources, but they can find that information all in one place."
The community has already identified housing as a major need for people living in Toledo and Lucas County. "Housing is a crisis all over the nation, not just for immigrants, but for everybody," shares Maloney. "In Toledo, for example, we need 30% more housing than we have right now."
Arribas-Douglas affirms, "This challenge is not unique to our community, and we're hoping that we can better coordinate our efforts as a cross-sector initiative to find creative solutions."
Furthermore, advisory team member Corder sees storytelling as an opportunity to continue building welcoming attitudes among the communities within Toledo and Lucas County. "With stories, we are able to create a space that offers our community members an opportunity to experience empathy, care, and concern," she says. "By doing so, we can create an inclusive space for our community members to connect, communicate, collaborate, and contribute toward change."
Additional plans for the community include developing language access plans, voter registration initiatives, and cultural competency training for law enforcement.
As the partnerships in this Ohio community take root, Utley sums up the goals of Welcome TLC's future welcoming work: to expand "the awareness of Welcome Toledo-Lucas County and the awareness of what immigrants and refugees bring to this community."