Strong 21st Century communities are ones that connect and include people of all backgrounds. By doing so, communities - and those who live there - will meet their highest civic and economic potential. As places look to harness the vibrancy that comes from diverse talent and a more global workforce, welcoming and inclusive communities will set themselves apart.
Smart local government leaders across the country are already working to gain this competitive edge. Certified Welcoming provides an exciting new avenue for measuring, promoting, guiding, and validating these efforts.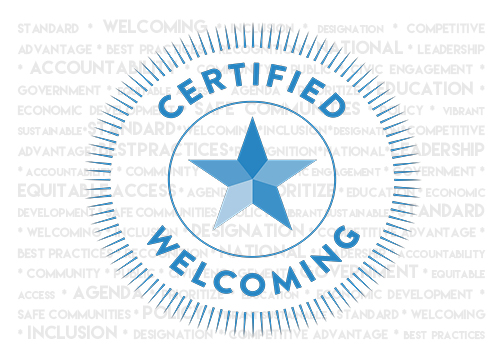 Distinguish Your Community
Communities that meet the Welcoming Standard earn the title of Certified Welcoming and will build competitive advantage. They also will have opportunities to share their welcoming practices on regional, national, and global stages.
Certified Welcoming Places
Welcoming America's national network helps build more welcoming places for all people, including immigrants. You do not need to be a member to become Certified Welcoming, but many places see membership as an easy on-ramp to begin welcoming work. Check out our network map and membership page for additional information.
Join us in congratulating, the City of Baltimore (MD), City of Boise (ID), City of Chula Vista (CA), City of Dayton (OH), City of Dallas (TX), City of Erie (PA), City of Lancaster (PA), Louisville Metro Government (KY), Lucas County (OH), Montgomery County (MD), City of Pittsburgh (PA), and Salt Lake County (UT) for achieving the status of Certified Welcoming.
Communities currently in the process of becoming Certified Welcoming include:
Charlotte, NC
Cincinnati, OH
Clarkston, GA
Detroit, MI
Nashua, NH
Portland, ME
Salem, MA
San Jose, CA
South Sioux City, NE
Toledo, OH
Washtenaw County, MI
For any questions or concerns related to Certified Welcoming, please reach out to certified@welcomingamerica.org or fill out the contact form below.